These directions will show you how to install FriendMobilizer via ActiveSync. This requires that you have a USB cable connecting your phone to your computer. These steps are for both Smartphones and Pocket PC's.
Before you begin, download the setup file for your type of phone.
The screenshots of the installation process below were taken from a Pocket PC installation. If you're installing on a Smartphone, the device screenshots may look a bit different, but the directions are the same.
First, make sure that your phone is properly connected to your computer, and ActiveSync is running. Click the "Explore" button in the ActiveSync window. If this button is grayed out, this means your phone isn't connected. Click here for further help.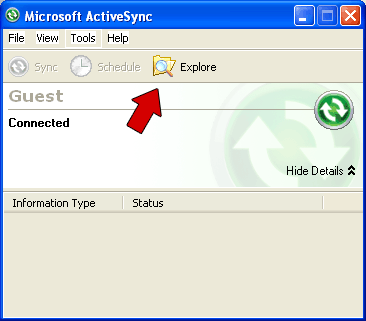 When you click "Explore," a new window will open. Drag the FriendMobilizer file you downloaded into this new window.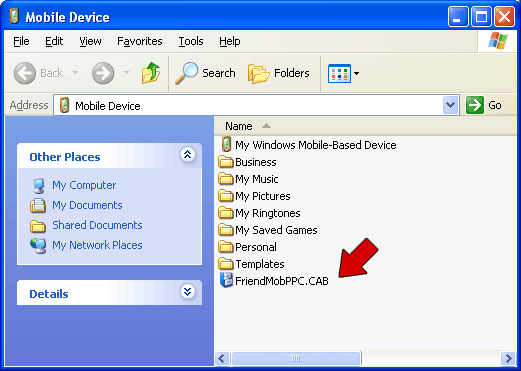 Disconnect the phone from your computer (physically unplug the USB). The remaining instructions involve your phone. You will need to find your phone's "My Documents" folder. To do this, go to your phone's Start menu, and click "File Explorer."
For Smartphones, you may not see "File Explorer" in the Start folder. You will need to click on "Applications" after you open the Start folder, and there you'll be able to find "File Explorer."
In most cases, when you open "File Explorer" the default folder will be "My Documents" - exactly what you need. If the default folder is something else, you will need to press the left softkey until you reach the very top of the file directory. From their, you will see and click on "My Documents."
When you get to the "My Documents" folder, open the "FriendMob" file - this is the file you download to your computer and transferred over via ActiveSync.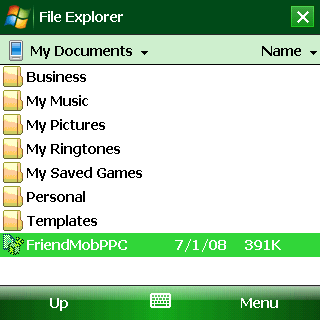 After you open this install file, you will see a popup similar to the one pictured below. Allow the installation to proceed by clicking Yes. You will be able to remove FriendMobilizer any time you wish.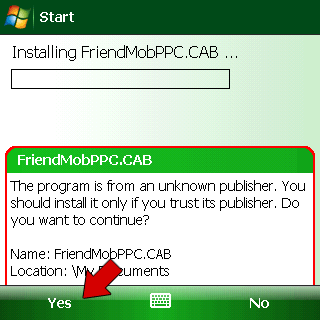 Congratulations, you have installed FriendMobilizer!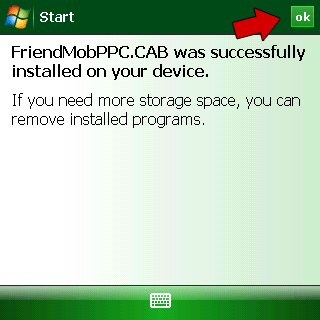 To use FriendMobilizer, open the Start menu on your phone and click on "Programs." There you will see the FriendMobilizer icon. Click it and FriendMobilizer will open. When you open FriendMobilizer, make sure you have a working Internet connection. Please note, every time you restart your phone, you'll need to reopen FriendMobilizer.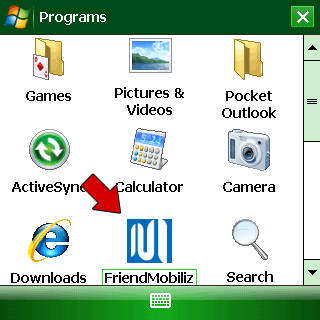 If you've followed these instructions carefully and still have a question, feel free to post in our support forum.